Comparation for panel light of SMD 4014 & SMD 2835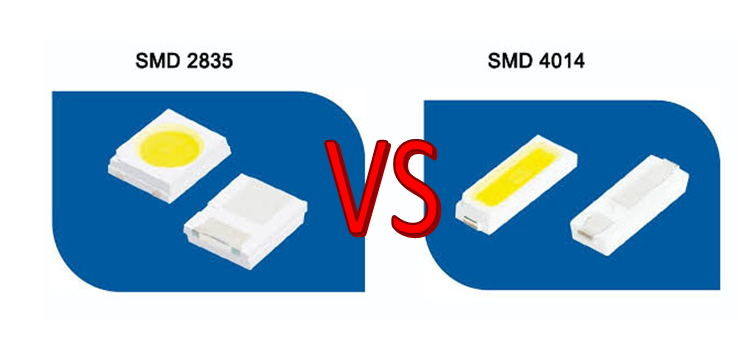 SMD 2835 & SMD 4014 both are very popular as LED panel light source, the customers sometimes will ask us, which LED is better, and why you have 2 series for panel lights.
Below I will list the difference of SMD 4014 & SMD 2835:
2835 LED
Voltage: 3.0-3.2V or 3.3-3.4V
Current: 60mA
Color Temperature: 2800-3200K,4000-4500K,6000-6500K
CRI: different level like 70,80,90
Size: 2.8*3.5*0.8mm
(2835 can also do 0.5W & 1W power in market now, for panel light, 0.2W is most popular)
4014 LED
Voltage: 3.0-3.2V
Current: 60mA
Color Temperature: 2800-3200K,4000-4500K,6000-6500K
CRI: different level like 70,80,90
Size: 4.0*1.4*0.7mm
From above datas you can see 2 LED's specifications are very similar except size, even the cost are very close, so the different effects mostly caused by the size, emitting angle , and other parts.
Market supply:
2835 is more popular in supply chain, whatever big or small LED package companies, almost every SMD LED suppliers are producing SMD 2835. as the bracket of 2835 have been controlled in Chinese company.
4014's bracket can only be bought in foreign companies, so now only part of company can produce SMD 4014, it is not so popular in market now.
Size:
From the picture you can find:
2835 is wide but short, 4014 is narrow but long.
If use same quantity LED in same length PCB, the distance between every 2 LEDs are shorter if use 4014, that means 4014 will have a better emitting effect (no dark shadow) under same situation.
for 2835 panel light, we have to use thickness=4mm PMMA LPG for diffusing light. for 4014 panel light, we can use 3mm LPG to meet same effect. so usually the cost of 4014 panel light will be a little lower than 2835 now.
CONTINUE IN 2016:
After 3 years I wrote above content, now the 2835 & 4014 story continue:
4014: Widely use in cheap panel light now, the most of Jiaxing factory now use only 2.0mm thickness LPG for 4014 panel light and lower a lot in cost, now the market price for 60*60cm panel light even reach USD 7 for 36W.
But there is a disadvantage for SMD 4014, as the size of 4014 is too narrow, during the shipment, the LED is easy to break because of pressure of heavy LGP. To avoid this problem, we suggest to add a protection fixclip in PCB(see below picture) to avoid trouble.
2835: Widely use in middle & high level panel light now, as 2835's package technology grow up every year, for 2835 panel light, lumen can reach more than 130lm/W now. But in price, as 2835's size, we can only use 3.0mm LPG min, price still keep more than USD 10-12.
Usually 2835 is stronger than SMD 4014, no need protection it can still keep good performance. But for 60*120cm big size, the LGP is double heavy as 60*60, we also suggest to add the protection fixclip to make a better guarantee in quality.
Comments Off

on Comparation for panel light of SMD 4014 & SMD 2835